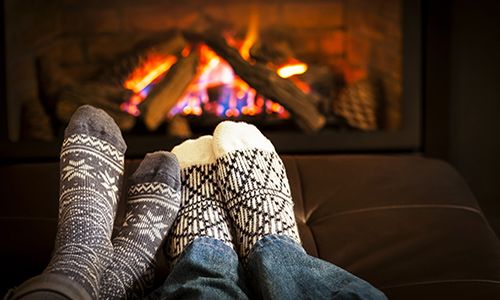 Winter in the Hinterland
The rustic charm of Bangalow comes alive in wintertime, when the allure of our delightful village is at its peak. Set amidst stunning rural scenery, beautiful misty mornings and spectacular sunsets in the Hinterland in winter are not an uncommon sight. There are plenty of ways you can enjoy Bangalow and surrounds and stay snug during the cooler months – here are a few of our favourites…

Get cosy by the fireplace
The open fire at The Bangalow Hotel is a popular way for locals to warm up on the lounges while enjoying a traditional Aussie dinner at the pub. You'll also experience great live entertainment with your delicious meal sourced from local produce and an extensive drinks menu.

If you're willing to venture five minutes down the road in your car, Harvest Restaurant in the small township of Newrybar is set in a small 1900s historic cottage with a cosy fireplace inside. The menu has a focus on organic, artisan food sourced from local farmers.

Enjoy the winter festivals
The Byron Bay Hinterland often has beautiful sunny winter days matched by cool winter nights. To make the most of the season, the Northern Rivers comes alive with celebrations and opportunities to get out and about. Closest to home is the Newrybar Public School Fireworks and Fair, held in June each year. This wonderful community event is held to raise much-needed funds for the local school, celebrating with great entertainment, raffles, local food stalls and fireworks at the end of the night.

About half an hour from Bangalow, you'll find Lismore Lantern Parade. Held in late June on the night of the winter solstice, this event lights up the streets of this vibrant town with spectacular illuminated sculptures, fireworks, bonfire, live entertainment and food stalls. This is a dazzling event where the community comes together to celebrate the unique creative art scene in the Northern Rivers.

For an event a little closer to the coast (held in a street right next to the beach, actually), Love Lennox Festival in Lennox Head is a fun family event held in early June. With a great festival atmosphere, Love Lennox Festival is a celebration of everything the locals love about the charming beach town, with markets, arts and crafts and live entertainment continuing on into the evening.

If culinary delights and beverages are your thing, look no further than Ballina Fine Wine & Food Festival, held in early July every year. This popular event showcases a fusion of the best food from local restaurants and producers, as well as premium wines, craft beer, cider and spirits. You can expect to see live demonstrations, exhibitors and great live music.

Take advantage of the winter sun
Bangalow and surrounds are lucky enough to have frequently gorgeous bright winter days that make it easy to get out of the house and enjoy the sunshine. While you're out and about, one activity you might like to do is visit Cape Byron Lighthouse to see if you're lucky enough to spot the Humpback whales migrating from the southern hemisphere further north. As the most easterly point in Australia, the lighthouse in Byron Bay is a beautiful spot for whale watching, as Humpbacks travel in close proximity to the shoreline.

Another worthwhile winter activity in Bangalow is getting up early to catch the Farmer's Market every Saturday morning. Held in the car park of The Bangalow Hotel, you'll find fresh seasonal fruit and vegetables direct from local farmers. Grab a hot coffee from the market while you enjoy your winter morning stroll in the sunshine.

Rest assured you can stay warm at home, too. Residential homes in Bangalow are often built with open fireplaces to counteract the winter temperatures. But don't worry: Bangalow isn't too far away from the coastline so you won't be hit with the too-cold inland chill. The average temperatures in winter range from 11-19°c, with the average rainfall at about 100-150mm per month.

Want to know more about living and buying real estate in Bangalow? Have a look at other articles about our community or get in touch with us at Elders Bangalow.