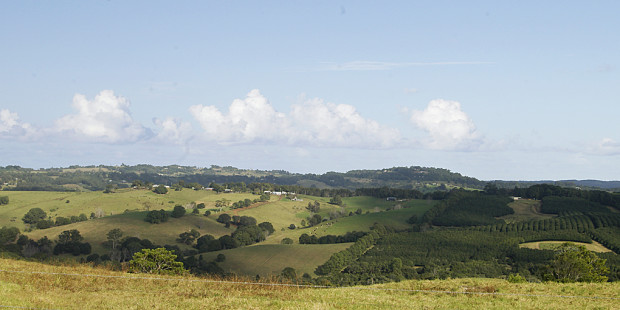 Types of Farms in the Bangalow Region
Home to a wealth of wide-open spaces, the Byron Bay Hinterland is the perfect scene for a farm. And there are plenty. With farmer's markets held every weekend, the bustling Northern Rivers farming industry isn't going out of style anytime soon. From nuts, fruits, vegetables, meat, dairy and coffee – there's plenty of produce to go around.

Macadamia
An Australian native, around 60% of Macadamia nuts are produced in the Northern Rivers district. With at least six macadamia plantations in the Hinterland, this rich, buttery nut is popular at farmer's markets the region over. The nut is so synonymous with the Far North Coast that the area even has a small family-friendly theme park to show it off – The Macadamia Castle in Knockrow.

Coffee
An up-and-comer in the Byron Bay Hinterland, coffee beans harvested in the rich, volcanic soil of the Northern Rivers has seen an upsurge of late – the locale is home to at least a dozen roasters and the coffee beans are featured in local cafes all around Bangalow, Byron Bay and beyond. Like many Australians, the locals in this region are serious about coffee – and you can taste it in the flavoursome, organically grown Aussie beans.

Dairy
The region's stunning green pastures paved the way for European settlers to set up thriving dairy farms. Considering the lush green landscape of the Northern Rivers, It's no surprise that dairy farms have maintained momentum since then. Today, local dairy company Norco – which has been operating since 1895 – is the major dairy cooperative and accounts for 90% of the locales dairy supply.

Bananas, avocados and other fruits
Should you take a leisurely drive through the Hinterland, you'll see that a regular fruit salad of sub-tropical fruit and vegetable crops thrive in the lush orchard estates dotted along the road. Among the most prevalent are bananas, which have been a popular business avenue in the region since the early 1900's. Avocados, lychees, lemon myrtle, blueberries, custard apples also aren't out of place in many of the unspoiled villages throughout the Hinterland.

Buying or selling a hobby farm or commercial farm in Byron Bay Hinterland?  Speak to any of our experienced rural salespeople for local knowledge and decades' of experience in lifestyle properties, acreage and working farms.