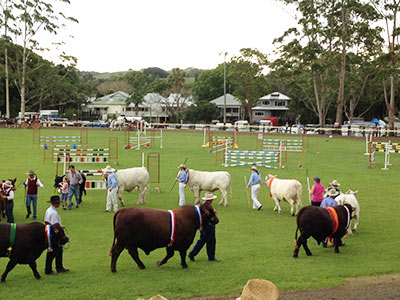 The Spirit of Bangalow
The Spirit of Bangalow
Bangalow's active community plays a large part in keeping the spirit of Bangalow alive. A Bangalow is blessed with the perfect combination of country charm and cosmopolitan convenience.
However, the most vital part of Bangalow lies within its strong community values, and many a local will attest that this is what makes Bangalow so special. We recommend attending any of the annual community events in Bangalow to enjoy all that this unique town has to offer.
Bangalow's Country Women's Association

Everyone is welcome at The Bangalow CWA who meet every Wednesday in their rooms in Bangalow's main street, between 9.00 am and 2.00pm for craft. The second Wednesday of each month is their meeting day and this is where you will pick up some lovingly home made craft & cakes.
Bangalow Men's Shed
Make friends, learn new skills and share your skills … Members from 6 years old..Fathers and sons, uncles, grandfathers are all welcome. Bangalow Men's Shed celebrating it's first year & going strong.


Anzac Day at Bangalow Hotel 
A home grown tradition, many Australians will be familiar with playing two-up at their local pub on Anzac Day. The heart of the town, the Bangalow Hotel, holds the event each year after locals have paid tribute to the Anzacs with a march through the town that morning.

From 2pm, locals gather in the classic old style pub at the top end of town to share a drink, have lunch in the sun and play two-up. The game is played to mark a shared experience with Aussie diggers.
Bangalow's Christmas Eve Carnival
Every Christmas Eve, Santa and Mrs Claus make their way into the main street of Bangalow to celebrate the spirit of Christmas. Byron Street, usually bustling with traffic, is instead lined with Christmas lights, delicious food stalls, street performers and a family-friendly festive vibe.
There's something for everyone at the Bangalow Christmas Eve Carnival – carnival rides, Christmas carols, face painting, musicians and flavoursome food makes this night one event in the Hinterland social calendar you can't miss.
The Bangalow Show
Held in November each year, The Bangalow Show is a celebration of all things agriculture, craft and entertainment. Running since 1897, the show is a bona-fide Bangalow tradition. The show runs over two days, with locals heading down to the pavilion at Bangalow Showground to buy and sell animals, local produce and arts and craft.
A popular highlight of the show is the children's pet parade, where kids proudly display pets in fun categories like pet with the waggiest tail or best smile. Rides and competitions abound, and there's something for everyone at this charming event – there's even a 'Bangalow Idol', a contest to find the best singer. The show ends with a bang with the grand finale fireworks held on the second day.