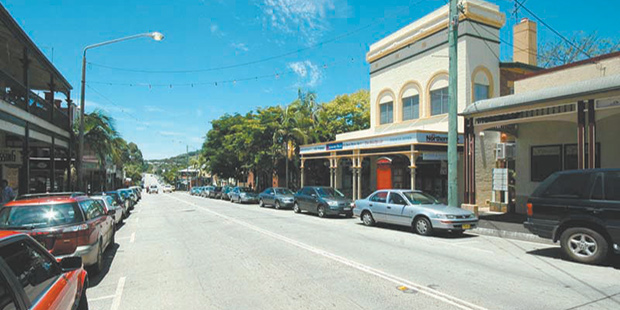 The History of Shops and Cafes in Bangalow
Bangalow's heritage-lined main street is home to a treasure trove of history that dates back to the 1880's, when the town was first settled by Thomas Robinson. Many of the old buildings in Byron Street still remain but have since evolved and changed into the shops a
nd cafes we know and love today.

Bangalow Historical Society Museum and Tea Rooms
Just off Byron Street on the corner of Ashton and Deacon Street, most people will know Bangalow Heritage House as a place to enjoy a cuppa while learning about our wonderful town. But the building itself (originally located at Brunswick Heads) has a varied history that might surprise some out-of-towners – it has served as a doctor's surgery, a family home, a boarding house and a brothel! To this day, in the entrance to Heritage House you can still see a board with hooks for the room keys and names of the workers at the brothel. Today, the Queenslander houses the museum displays inside and accommodates visitors on the verandah for tea and scones.

Bangalow Pharmacy
Bangalow Pharmacy is a quaint Hinterland gem on Byron Street, offering a variety of luxurious lotions, potions and gifts, as well as standard medicinal essentials. In 1904, the Commercial Banking Company of Sydney sat in its place, but was damaged and destroyed by two fires a few years apart. Since then, it has been a bottle shop, café and finally, a chemist. The building as we know it today was erected in 1911.

Wax Jambu Emporium
Originally home to Bangalow's general store in 1906, the building in which Wax Jambu Emporium is housed was also the temporary home to the Bank of New South Wales after their original premises were destroyed by a fire in 1939. Throughout its history, it has often been divided into two shops, as it sits today. These days, you can meander through Wax Jambu Emporium for eclectic treasures and beautiful gifts.

Bangalow Post Office
With Bangalow previously known as Byron Creek, it's fitting too that the Bangalow Post Office was previously known as Byron Creek Post Office. In 1894, the Post Master General asked for the name of the town of the changed, and what do you know? The name 'Bangalow' was born.

The Bangalow Rug Shop
Now home to a beautiful collection of exotic rugs, clothing, textiles and cushions, the site where the Bangalow Rug Shop sits has had an exciting past having been home to a wide array of different local businesses. From an auctioneer sales room, to a fruit shop, restaurants and grocery stores, this building has had an assorted history over the years. Now, the store sells beautiful hand woven pieces with an ethos inspired by the ancient beauty of traditional Turkish and Afghani carpets.

The Cellar
A real Bangalow institution, the Cellar has been popular amongst locals since 1989 for its generous selection of quality wines. But before the local bottle shop was around, a plumbing and tinsmith firm existed in its place. In 1929, a small petrol station moved in but was eventually demolished to make way for the gorgeous brick building that exists there today.

Bangalow Newsagency
Located in the heart of Bangalow at 26 Byron Street, Bangalow Newsagency is the hub of the community where locals get the news, as well as books, stationery and school supplies. The original building that stood in its place, the Rural Bank and Government Savings Bank, burnt down in 1930. The structure that stands there now was built a year later and eventually leased to a barber and a newsagent, and has continued to trade as a newsagency since 1953.
Our Corner Store/Zacalu Zoo
One of the oldest commercial buildings in Bangalow, the spot where Our Corner Store and Zacalu Zoo now stand was built in 1906 and originally housed a dentistry. It also was home to a bootmaker owned by P.J. Waugh, the great grandfather of cricketers Mark and Steve Waugh! Eventually, there were several other businesses in the same spot including a café, auctioneer, bus depot, produce store, green grocer, antique dealer, clothing shop and a hardware. These days, you can stop in at Our Corner Store and Zacalu Zoo to find an array of beautiful clothing and things to fill your home.

Abracadabra/Barebones Art Space
The area where Abracadabra and Barebones Art Space now sit was once the home to the building where the town newspaper was published, but, like many of Bangalow's buildings in the early 20th century, the Bangalow Herald building was overcome by fire and burnt down in 1920. Afterwards, the newspaper continued to be printed in Lismore for 11 years. Now, the space is split between Abracadabra and Barebones Art Space, two of Bangalow's much-loved establishments. Abracadabra is an eclectic shop filled with colourful goods and hippie wares, the perfect place for a memorable souvenir from the Northern Rivers. Next door at Barebones, you can view and purchase a large range of local paintings, sculptures, prints and etchings.

Want to know more about what it's like to live in Bangalow? Check out our article on living in Bangalow or get in touch with us at Elders Real Estate Bangalow.