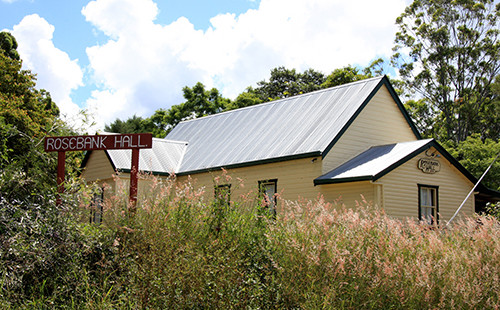 Rosebank and Corndale Location Guide
Elders Real Estate know rural property in the Northern Rivers. Find our more about  life and buying real estate in the two historic locations of Rosebank and Corndale.
Buying Real Estate in Rosebank and Corndale
Two delightful locales set amongst a rural landscape, Rosebank and Corndale encapsulate an old-world charm not often seen this side of the year 1900. The area is home to a vibrant and active community, with hobby farmers, lifestylers and retirees among the selection of friendly residents.

Located in the picturesque foothills adjoining Nightcap National Park, this is a peaceful spot with views of lush green hills and rainforest. The nutrient-dense soil is perfect for orchards, vegetable patches and gardens – and these are the main pursuits of residents today.
The History of Rosebank and Corndale
Rosebank and Corndale was first inhabited by "The Clever People" of the Widjabul Clan, part of the Bundjalung Nation.

European settlement first focused on harvesting timber, before dairying took over as the main industry in the late 1880s. In 1887 gold nuggets were discovered at Little Rocky Creek and it was proclaimed a goldfield. But this boom was short lived and in time farmers turned to grazing beef cattle and other agricultural pursuits.
The flat grass areas and cleared forest grew high yields of corn – hence the name Corndale. It continued to yield well for many years and had a reputation for the quality corn grown in the valley.
The Community of Rosebank and Corndale
Rosebank and Corndale have a community with a passion for the environment. Maintaining and improving the remnants of the Big Scrub, which still houses a huge diversity of flora and fauna, is a focus for the landcare and biodiversity advocates here.
Located on the edge of some of the region's most beautiful rainforests, Hinterlander's Haven Café and general store is a dining destination serving gourmet country-style dishes and providing urban conveniences. Just down the road are popular Channon Markets, Whian Whian Falls, Rocky Creek Dam and Minyon Falls.
Each with its own public school and hall, the idyllic rural lifestyle is within reach for families and individuals alike upon a move to Rosebank or Corndale.