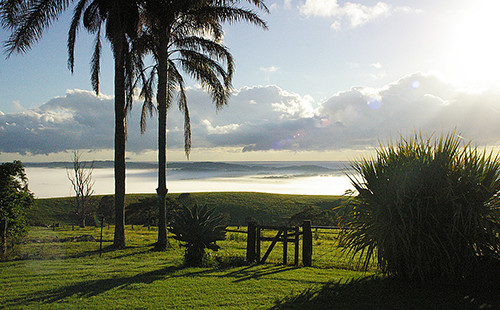 Newrybar and Knockrow Location Guide
Elders Real Estate Bangalow having great local knowledge of the Byron Hinterland. Read our guide to buying real estate and life in the hamlets of Newrybar and Knockrow.

Buying Real Estate in Newrybar
Newrybar in the Byron Bay Hinterland is a real estate gem offering a mix of family homes, small acreage and large farms producing world-class coffee and macadamias. Just a few kilometres south of Bangalow, Newrybar is nestled amongst the lush green hills of the Byron Bay Hinterland.
The History of Newrybar
First settled by Europeans in 1881, the name Newrybar comes from the Bundjalung language, meaning 'place of climbing vines'. These vines along with vast cedar trees were features of The Big Scrub, a dense sub-tropical rainforest cleared by colonists in the late 19th century.
Newrybar, a foodies paradise
Once a humble farming hamlet, Newyrbar with its mix of rustic antique stores, award winning cafes and fashion stores is a must-do for weekend brunch and shopping. Popular Harvest Café offers world-class fare using local ingredients while the Harvest Deli next door is your one-stop gourmet shop for stylish picnics and entertaining.
True to its rural heritage, the town of Newrybar has its own local school. Each year, the Newrybar school hosts the Newrybar Fair and Fireworks night, a popular evening of entertainment for the whole family that really shows the spirit of this small but thriving community.
Buying Real Estate in Knockrow
Knockrow is small locality in the Byron Hinterland renowned for its macadamia orchards and lush farmland. With many rural properties in Knockrow offering ocean glimpses over the Lennox Headland, this is a highly sought-after address.
Just 10 minutes from Lennox Head and 20 minutes from Byron Bay, Knockrow is the perfect hybrid of rural and coastal landscapes and offers great lifestyle properties for those seeking acerage.
About Knockrow

It is believed that Knockrow is named after a town in Ireland in County Fermanagh, the birthplace of Margaret Johnson, the wife of an early settler, Robert Johnson.
Today, Knockrow is home of The Macadamia Castle, a family-friendly themepark that showcases the best in local produce. As the name suggests, macadamias are in abundance here, served roasted, in cakes, ice cream and in a variety of savoury dishes too.
Not just a café, The Macadamia Castle also is a wildlife park that houses local flora and fauna. Kangaroos, a reptile display, rabbit petting, crocodiles and wombats are just some of the animals you'll stumble upon here. To keep everyone entertained, there's also mini golf, playgrounds, face painting, train rides and barbeque facilities available. Great for a coffee stop or a fun family day out.