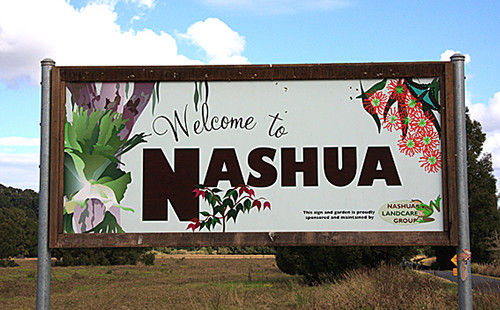 Nashua and Booyong Location Guide
Elders Real Estate Bangalow are experienced in all types of Hinterland properties, from residential to working farms.  Read our guide to buying real estate and life in the locales of Nashua and Booyong.

Buying Real Estate in Nashua and Booyong
Nashua and neighbouring Booyong are small localities comprised of vast farming land, sections of rainforest and grassy green knolls. Set between the Byron Bay and Lismore shires, the villages are rural havens for buyers seeking peace and privacy, with urban convenience only a short drive away.
The History of Nashua and Booyong
Originally named Springvale, Nashua was once home to the two brothers who would go on to start the Toohey's beer brand in Melbourne in 1869. When James and John Toohey named their property Nashua after a tribe of American Indians from Massachusetts, the word meaning 'beautiful streams lying in a beautiful valley'. The government decided to use the property name for the old railway station, and it has since stuck to the town.

Booyong gets its name from the Aboriginal word for "ironwood tree", which were prolific in the Big Scrub prior to European settlement.
Located on Bangalow's western boundary, early settlers in the area hoped to grow sugarcane but soon changed to dairy farming and growing pecans nuts when frost killed the sugarcane.
The undulating landscape still today sustains dairy cattle for Norco, as well as pecan nuts and other agriculture.
The Community of Nashua and Booyong
The pastures of Nashua and Booyong radiate a charm that is synonymous with the Northern Rivers, and a small population ensures both towns maintain old-fashioned country hospitality. Despite small numbers, a strong sense of community prevails.
Nashua Community Cricket Day, held annually each October, is a chance for locals to gather underneath the camphor laurel trees at the cricket pitch, enjoy homemade cakes, coffee and a BBQ, and heartily cheer on the competing teams named after four long-term local families: Trimble-James and Savins-Taylor.
A unique rule of the game is that if any player hits the Elders Bangalow Real Estate sponsor sign with the ball, they win $25 cash. A fantastic way to spend what is guaranteed to be a beautiful spring day.