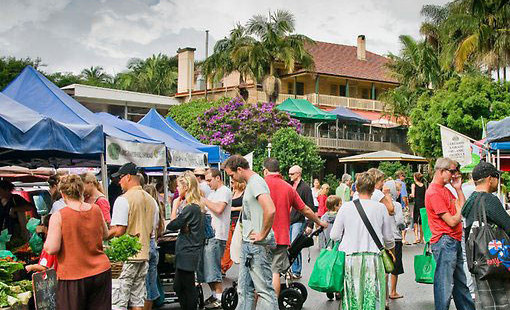 Markets in Bangalow and Surrounds
Markets in Bangalow and Surrounds
As a country village immersed in rural traditions, it's no surprise that Bangalow is home to some of the best markets on the Far North Coast. Bangalow values it's local artisan culture and is blessed with two thriving markets: a weekly farmer's market and a monthly arts and crafts market.
Bangalow Farmer's Market
Fresh local produce is showcased weekly at the Bangalow Farmer's Market. One for the early risers, the market is held from 8am until 11am in the Bangalow Hotel car park every Saturday morning.
Operated by the Byron Farmer's Market Association, the Bangalow Farmer's Market has been running since 2004 and is popular amongst locals for its high quality fruit and vegetables, bread, preserves, baked goods and nuts.
Grab a cup of coffee as you stock up on organic, locally grown fresh produce and chat with the local farmers.
Bangalow's Monthly Art and Craft Markets
On the 4th Sunday of the month, Bangalow Showgrounds is host to the Bangalow Markets. This sprawling collection of quality stalls takes place beneath the canopy of the huge camphor laurel and fig trees.
A wonderful community event ,locals and visitors alike enjoy the unique atmosphere while browsing wares from local artists, farmers, jewellers, designers and food vendors. With over 300 stalls, you'll be sure to find something you love – and something you didn't know you needed. Keep the kids occupied with live entertainment, performed by local talent, as well as buskers, a Ferris wheel, merry-go-round, face painting and more.
Markets in the Hinterland
Further afield you will find other regular weekend markets to explore:
The Lismore Carboot Sale is a collection of market stalls and mini garage sales – 1st Sunday of the Month
The Channon Markets set in the tiny town of the Channon 45-minutes from west of Byron, 2nd Sunday of the month
The Byron Bay Markets offering acres of art, craft, food and more – 3rd Sunday of the month.