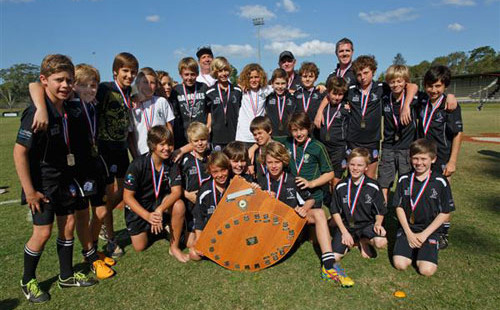 Local Sports Sponsored by Elders Bangalow
There are many sporting clubs and events and Bangalow and beyond. Elders Real Estate Bangalow proudly supports the following teams, events and facilities.

Local Sports Sponsored by Elders Bangalow
Bangalow has a thriving community spirit that translates well into the sporting arena. There are a number of grassy recreational fields and sporting areas in the Byron Bay Shire that allow the local clubs to flourish. Community involvement is important to us at Elders Real Estate Bangalow, and we are proud to be a major sponsor of many of the various sports in the area.
Bangalow Bluedogs (Soccer)
The Bangalow Bluedogs is one of the largest clubs around, with over 20 junior and 9 senior men and women's premier teams participating in the Football Far North Coast region. In line with the spirit of Bangalow, the commitment of the club is to ensure personal development, community spirit, teamwork and fun for players, volunteers and spectators.
Established in 1970, the Bluedogs have seen continued growth and success despite Bangalow's small population. The senior teams have gone on to compete in the New South Wales North Coast Premier League – quite a feat!
Byron Bay Magpies (Junior AFL Club)
Founded in 1984, the Byron Bay Junior AFL Club is part of the Northern Rivers Junior League and AFL Queensland. Dressed in black and white football jerseys, the Byron Bay Magpies compete at different locations in the Northern Rivers area each Sunday during football season, which runs from March through to September.
Running for some 30 years, the club has fantastic local support from volunteers, players, coaches and administrators. The Magpies often play against other local teams like the Tweed Coast Tigers, Ballina Bombers and Lismore Swans.
Bangalow Netball Club
A subdivision of the Brunswick Byron Netball Association, Bangalow Netball Club welcomes girls from 5 years of age upwards to 60 years to join. A game suitable for all ages and abilities, games are played from April onwards every Saturday at the Brunswick Byron Netball Association Courts at Mullumbimby's Recreation Grounds.
Training days are held at Bangalow Sports Fields, and the club aims to provide fun and friendship as well as development of new skills. New members are welcomed each season.
Nashua Community Cricket Day
Fresh coffee, cakes and a BBQ are all provided as the Nashua Cricket Ground is adorned with tents of local produce on Nashua's annual Cricket Day. Two teams are named every year after four long-term local families: the Savins-Taylor and Trimble-James teams.
A small town with a lot of heart, a unique rule of this particular cricket game is that if any player hits the Elders sign, they win $25 cash. The captain of the winning team takes the trophy home until the next game, held in October each year.
Bangalow Sports Fields (Schultz Oval)
Lining Bangalow's eastern fringe is Schultz Oval, an extensive sports ground with endless opportunities to cater for sports like soccer, rugby union, netball and other recreational activities. Not limited to organised sports, the fields also have a one-kilometer walking track around the perimeter, used daily by community members for walking and fitness.