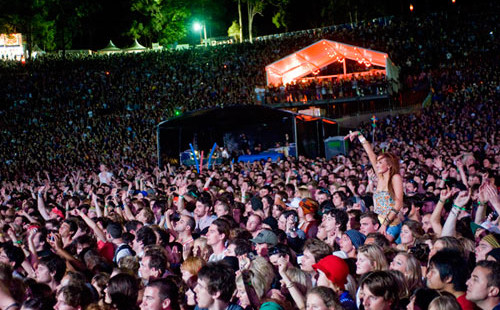 Festivals in Bangalow, Byron and Surrounds
Elders Real Estate Bangalow loves the range of festivals and events that make up the Hinterland social calendar. Here are just a few of the special annual events that make living in Bangalow and surrounds such a pleasure.
Festivals in the Bangalow Region
As a regional locale with an authentic old country town feel, Bangalow is a place that certainly knows how to celebrate. The district is also host to many international music acts at  Falls Festival, Splendour in the Grass and Byron Bay Bluesfest, encouraging visitors from all over Australia to visit our little slice of heaven.
Sample Food Festival
Attracting some 15,000 visitors annually, Sample Food Festival showcases the best in Northern Rivers food and drink. Sample the amazing flavours of the region from over 200 local farmers, restaurant owners and food producers. Held in September each year in Bangalow Showground, the festival is supported by Sample Magazine, a seasonal publication showcasing the diverse range of tastes in the Northern Rivers.
The highlights of the day itself include a Byron farmers' market breakfast, cooking demonstrations, live music, beer garden, a cheese making class, wine marquee, celebrity guests, live music and entertainment for the kids. Sample Food Festival is a must for fans of organic food and drink.
Splendour in the Grass & Falls Festival
Held annually in parklands near Byron Bay, Splendour in the Grass is considered Australia's largest winter music festival and attracts visitors from all over Australia & tickets sell out immediately they go on sale. This is an all ages music festival, where as Falls Festival is 18 years & over and held over the new year period in the summer.
Held in North Byron Parklands, a site that offers 660 acres of rolling green hills and beautiful lush bush lands, these aren't just music events, the festival also features & supports local arts, culture and cuisine from local artisans and food stallholders from the Northern Rivers region.
Byron Bay Bluesfest
Featuring a large selection of blues and roots artists, Byron Bay Bluesfest has been running since 1990 and is a premier cultural experience in the area. Spanning 5 days, Bluesfest is held at Tyagarah Tea Tree Farm, just 25 minutes from Bangalow.
An event with character and soul, Bluesfest boasts an eclectic lineup of performers, market and food stalls, merchandise shop, artist signings, bars, camping, buskers and more making Bluesfest one of the leading events over Easter in the Hinterland social calendar.
The Bangalow Music Festival
A calendar highlight for Australia's classical music scene, Bangalow Music Festival is a showcase of internationally acclaimed Australian musicians. Focusing on the internal essence of chamber music, the festival is presented by Southern Cross Soloists each August in Bangalow's historic A&I Hall.
When the festival comes to town, an array of concerts are performed (including one for school students)The high caliber chamber and orchestral musicians playing against the backdrop of the Byron Hinterland makes this a unique experience unlike any other.
Starlight Festival
If you've ever been to Byron Bay, you will know that natural healing and spiritual practices are popular in the Northern Rivers region. Therefore the Starlight Festival, which comes to Bangalow every year around Easter, couldn't be better situated for a nurturing space in which to unwind for a few days.
Held in the Bangalow A&I Hall, the festival features workshops, meditation, yoga, aromatherapy, crystals, dance, tarot, live music, reiki and more. A chance for you to explore your spiritual side, the festival also serves gourmet vegetarian food for lunch, ensuring you have a full and relaxing day at the expo.