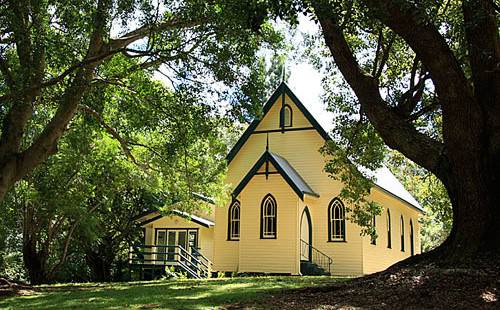 Federal and Eureka Location Guide
Elders Real Estate Bangalow know the Hinterland like the back of their hand. Read our guide to buying real estate and enjoying life in Federal and Eureka.

Buying Real Estate in Federal
Federal is a nature lover's paradise, a wonderful place to buy real estate in the Byron Bay Hinterland. Here space is key – whether it's your own private small acreage or something more substantial for commercial farming or crop production.
The History of Federal
The lush green hills and pastures of the Byron Bay Hinterland have long attracted farmers, nature lovers and gentle souls who appreciate space and solitude. Previously known as Jasper, Federal was discovered by John Bate and William Risley in 1882 who came in search of land from Lismore. Community spirit was established early on in the history of Federal and that spirit is alive and well in Federal today.
The Federal Community
With a population of just 712, it's no wonder Federal is known for its active community and social side. From fundraisers for the local preschool to music nights to cinema nights held in the historic Federal Hall, there are many fabulous community events to be part of in this town.
For visitors and residents alike, Federal offers its own general store and the Federal Village Gallery as well as a popular Japanese eatery, Doma Café.
Conveniently located near Bangalow, Federal is also just a short drive to Byron Bay and the urban centre of Lismore, home to Southern Cross University and two hospitals. Neighbouring suburb Eureka offers residents an even more relaxed lifestyle.
Buying Real Estate in Eureka
For those seeking solitude, Eureka is a small piece of rural paradise, offering peace and privacy. A population of just 307 ensures this pocket of Byron Bay Hinterland retains its vast serenity and natural beauty.
Nestled between Federal and Nashua, Eureka has carved out its own thriving community just 15 minutes drive from Bangalow.
The Community of Eureka
Eureka is home to many artisans and musicians. It has its own public school, as well as a sporting field with a tennis court, cricket nets and soccer fields for sporting enthusiasts.
The nearby Eltham Hotel is a classic country pub with a restaurant offering local produce cooked in a wood fired oven for lunch and dinner and the Eureka Hall holds trivia nights and other charming community events.