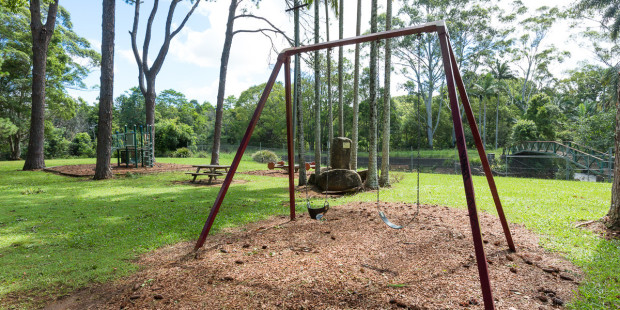 Family-Friendly Activities for Kids in Bangalow and Surrounds
From small country towns to beachside villages to region hotspot Byron Bay, the Northern Rivers is a goldmine for family-friendly things to do. There are activities galore and the area's abundance of natural beauty makes it easy to take the kids out for a fun day amongst nature or spend a rainy day indoors.

Reserve Park, Bangalow
Perfect for a weekday escape, Bangalow's Reserve Park is a quiet park next to Bangalow Weir and Byron Creek. Picnic tables, barbeque facilities and the shade of the pine trees make it easy to watch over your kids in the playground with a coffee in hand and a book in the other. On a hot day, dip your feet in the creek or head to nearby Heritage Museum and Tea Rooms for refreshments.

Mobile Library, Bangalow, Federal, Ocean Shores and Suffolk Park
For smaller towns with no fixed library offering, the Mobile Library is a bus that offers a complete range of library services – including books for children and adults, as well as computer access. The bus stops in at Bangalow every Saturday morning and visits other towns throughout the week. Visiting the Mobile Library is a unique experience, and young bookworms will be delighted at the prospect of going into the bus to look for books in the children's corner.

Lake Ainsworth, Lennox Head
Popular amongst locals, Lake Ainsworth is freshwater lake located in Lennox Head. Surrounded by ti-trees that drip natural oils into the water, the lake is said to have rejuvenating properties – and the water is coloured so it looks like a cup of tea with an oily film on top. Totally safe for swimming, the lake is right across the road from Seven Mile Beach and also has a recreation area with barbeque facilities and picnic tables.

Circus Arts, Byron Bay
Circus Arts is the ultimate way to spend an active day with the kids, rain or shine. Suitable for kids of all ages, this is a unique way to get the kids active and having fun at the same time. Offering circus classes from kinder circus through to flying trapeze, there is something to suit kids from 1 year of age onwards. There is also an indoor playground and a café offering healthy treats for all to enjoy.

Clarkes Beach, Byron Bay
A family favourite, Byron Bay's Clarkes Beach is the perfect way to spend a sunny weekend afternoon. A flat beach, it often has sandbars and tidal pools, making it an optimal swimming spot for kids under supervision, and is also patrolled by lifeguards over the summer. There are also numerous grassy areas with picnic tables and barbeque facilities along the edge of the beach, making this the perfect place for a family day out.

These activities are just a sampling of what is on offer is the beautiful Byron Bay Hinterland. Check out Byron4Kids for a complete resource for kid-friendly fun things to do and see in the area.

Image provided by Byron4Kids.