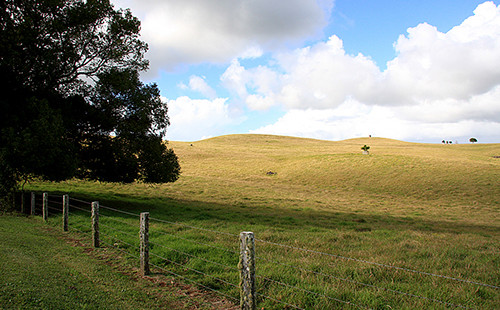 Brooklet and Fernleigh Location Guides
Elders Real Estate are Byron Hinterland experts with great insights into life in these northern towns.  Read our guide to buying real estate and life in Brooklet and Fernleigh.
Buying Real Estate in Brooklet and Fernleigh
Ocean glimpses, fruit orchards, nut farms and gorgeous rural outlooks are all yours upon investing in property in Brooklet or Fernleigh. Beautiful green countryside is in abundance and like Bangalow, Ballina and Lennox Head are just a stone's throw away.
The History of Brooklet and Fernleigh
Brooklet was originally named "Friday Hut", due to a hut that once stood in town, used by locals where goods were left for delivery and sale every Friday. In 1887 Friday Hut Provisional School was opened, one of the first small schools in the area.

There are two theories about the origins of the name Fernleigh.  It was possibly named after the tree ferns that grew in abundance on the hillsides around the area. Another possibility is that the area was named after William Noble's property which was called Fernleigh after a place of that name in Northern Ireland.

Like many towns in the Northern Rivers region, Brooklet and Fernleigh were part of the Big Scrub prior to English settlement in the mid to late 1800s. After an initial focus on timber getting, agricultural pursuits soon dominated, the fertile soil highly suited to many crops. And so farming life continues to this day in this oasis.
The area still commercially grows more fruit, nuts and trees per hectare than most parts of the Byron Shire. There are also several wholesale nurseries in the neighborhood with subtropical citrus and coffee trees up for sale.
The Community of Brooklet and Fernleigh
World-class food, drink and accommodation are abundant in this part of the Byron Hinterland. Newrybar's popular Harvest Café and Tintenbar's Ché Bon French restaurant are both a short distance from the hamlets. Olivia Newton-John's award-winning Gaia Retreat and Spa, located in Brooklet, is an exclusive getaway popular with celebrities that offers lavish 360-degree views of the hinterland.
Sitting on the fringe of Nashua and Knockrow, Brooklet and Fernleigh are both home to gorgeous green hills and a sense of community pride that is seen so often in the small regions of the Northern Rivers.