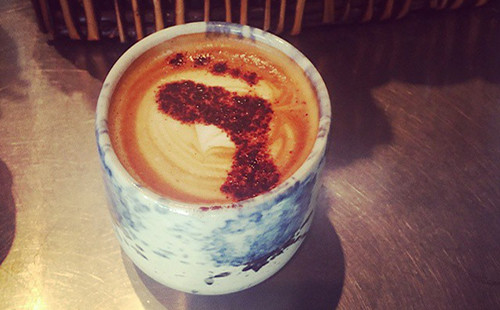 Best Coffee and Cafés in the Bangalow Region
A quaint country town with an old world charm, its no surprise Bangalow – and its neighbouring villages – is home to some of the most memorable cafés in the region. World-class coffee, cakes and atmosphere abound in some of the best-kept secrets the Byron Bay Hinterland has to offer.

With a focus on organic and homegrown, the Northern Rivers region has some of the best coffee in Australia. Local coffee specialists Zentveld's provide 100% Australian Arabica coffee blends, grown in the lush rolling green hills of the Byron Bay Hinterland. Bun Coffee Byron Bay similarly brings forth distinctive regional nuances with an emphasis on the growers, environment and the community.

Harvest Café
Located in an historic cottage, Harvest Café is open for breakfast and lunch, and dinner on weekends. A five-minute drive from Bangalow, Harvest Café is situated in nearby Newrybar and serves up fresh sourdough and pastries daily. Cosy up next to the indoor fireplace in winter, and spend leisurely summer days on the sunny veranda. A favourite with locals, expect organic local produce that showcases the best of the region.

Sparrow
Harvest Café's hole-in-the-wall outlet Sparrow brings the same artisanal food principles to downtown Bangalow – and offers a more accessible way to get your hands on a steaming hot loaf of sourdough from Harvest's popular bakery. With an emphasis on fresh local produce, Sparrow runs a seasonal breakfast and lunch menu. It also serves up a range of sweet treats and coffee, minus the guilt: most are dairy-free, gluten-free, organic or sugar-free – take your pick!

Doma Café
Not your typical café, Federal's Doma Café is an unexpected gem that serves up traditional Japanese cuisine. Always buzzing around lunchtime, Doma Café is set in the heart of Federal and also serves coffee, hot chips and homemade burgers. There is ample outdoor seating for long lazy lunches, as well as a traditional Japanese doma room. Make this your lunchtime stop on the way to Nightcap National Park or when passing by Federal.

Pantry 21
Pantry 29 is a deli, café and gourmet food store located on the heritage-lined main street of Bangalow, a favourite for foodies & is a casual alternative to Bangalow's restaurants. It is famous for its healthy lunches, juices, smoothies, Bun coffee and homemade gelato. 

The Stockpot Kitchen
Situated at the Bangalow Bowling Club 'The Bowlo', the team in the Stockpot kitchen offer all the family & sporting favourites. You won't be left feeling hungry here…. and why not take in a game of Bowls while you're at it.

Bangalow Heritage Museum and Tea Rooms
The charming café equivalent to a cup of tea and scones at your Nanna's house, Bangalow Heritage Museum and Tea Rooms is a must-do for Bangalow first-timers. Set in a classic heritage building, the tearooms on the verandas look out over the parklands on the eastern edge of Bangalow. The ideal spot for a morning tea or light lunch, "Heritage House" – as it is known locally – is also a museum run by volunteers, showcasing the history of the region. Open Wednesday to Friday only.

The Italian Diner
A café with a distinctly European vibe, The Italian Diner offers authentic Italian breakfast, lunch, dinner and coffee every day of the week. During brunch, the café serves up a special brunch pizza and pastries to tide hungry tummies over until lunchtime. The atmosphere is fun and friendly with a modern edge. Every month, The Italian Diner takes taste buds for a trip around Italy with a themed regional night, showcasing the best culinary flavours of specific locales in Italy.

Butcher Baker Bangalow
Situated on the main street of Bangalow, Butcher Baker is inspired by two artisan trades, honouring century old techniques to produce modern gourmet food. With independent craft beer on tap, excellent wines, spirits, artisan organic soda and local coffee, you'll be sure to find something that will satisfy your cravings.