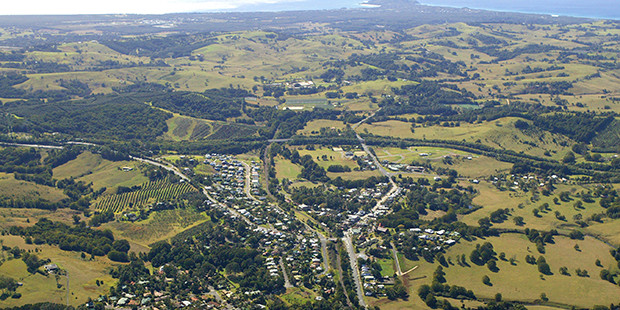 Bangalow Location Guide
Elders Real Estate Bangalow are local experts.  Read our guide to buying real estate and life in the historic town of Bangalow.

Buying Real Estate in Bangalow
Real estate in Bangalow offers the discerning buyer many options. In Bangalow you can find modern houses, house and land packages, quaint renovated Queenslanders or something more substantial with a big block. Bangalow is as beautiful as it is unique – a cosmopolitan town in a rural setting, just a 13 kilometre drive from the glorious beaches of Byron Bay and 20 minutes to Ballina/Byron Bay airport.
The History of Bangalow
The name Bangalow comes from Bundjalung word 'bangalla' meaning 'palm tree'. Driving through the streets you will notice many stately Bangalow Palms, the fauna mascot for the town. The town was first settled by Europeans in 1881 and there are a number of historic buildings preserved from this time. Now with a population of over 2,000, the once sleepy farming town has evolved to become a stylish and highly desirable address with a unique blend of old world charm, country hospitality and cosmopolitan chic.
The Byron Bay Hinterland
Nestled in the heart of the Byron Bay Hinterland, Bangalow is surrounded by rolling hills and views of pristine farmland. And if you love coffee, you'd be hard pressed to find a better place for your fix with numerous cafes and restaurants in Bangalow. Each Saturday morning the Bangalow Farmers Markets is held in the Bangalow Hotel car park bringing quality produce straight from the farm to you, and the monthly Bangalow Markets attracts visitors from all over the country.
The Community of Bangalow
But what really makes Bangalow special is the sense of community. Over the past few years, people from all around Australia have sought out this slice of paradise offering a sense of space and a change of pace.

Bangalow is now a dynamic creative hub with fashion designers, jewellers, an art school and the newly opened Station Street Studios. It also has its own public school.

There are a number of popular community events held throughout the year including:

Find out more about events in Bangalow

Living in Bangalow
Bangalow is a special place that seems to attract like-minded people. In fact, many of the Elders team came to Bangalow from other parts of Australia and loved it so much they decided to stay. Find out more about the Elders Team.