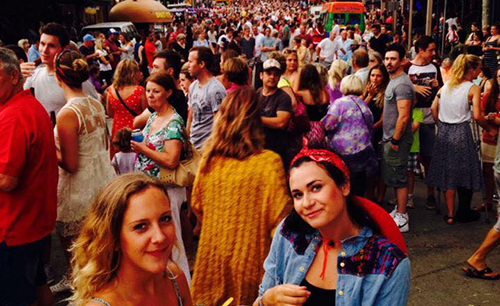 A Very Bangalow Christmas
Christmas in Bangalow is a magical time. A town with strong community spirit, it really shows in December as the heritage town lights up with festive cheer. Here are some of the ways Bangalow celebrates Christmas.

Christmas Eve Carnival
Every Christmas Eve, Bangalow shows off its country roots and holds a carnival in the main street of Bangalow. Byron Street is filled with joy as the festive atmosphere encourages residents to come together and celebrate this wonderful time of year. There is something for everyone at the carnival: food and drink stalls, street performers, face painting, Christmas carols and fairground rides in the school grounds. This is an unmissable summer evening for those that love the spirit of Christmas.

Bangalow Designer's Market
Held twice throughout the year, the December edition of the Bangalow Designer's Market is an exquisite summer affair and a lovely day out. Showcasing the best of local artisans, the market demonstrates the artistic talent that seems to run rampant in the Northern Rivers – the perfect chance to shop local and buy unique Christmas gifts direct from the designer.

Christmas shopping at Wax Jambu Emporium
Wax Jambu Emporium, located on the main street of Bangalow, houses an eclectic selection of gifts and home wares. If you can't make it to the Designer's Market, Wax Jambu Emporium is your best bet for a beautiful present for your loved ones.

Bangalow Fair Trade stalls
The annual Bangalow Fair Trade stalls, held by the Bangalow Uniting Church, support Fair Trade principles. The stalls offer goods that have been produced in developing countries by workers who are given good working conditions, a fair wage, and whose communities are supported by a Fair Trade premium. A wonderful opportunity to buy gifts from an ethical source, the stalls offer a huge range of home wares, Christmas decorations and beautiful Christmas presents that anyone is sure to love.

The Bangalow Hotel ham raffle
The ham raffle at The Bangalow Hotel is a great way to win a beautiful ham in time for Christmas – as well as spend a fun Sunday afternoon at the lively local pub. Held on 20th December this year, tickets are sold from lunchtime onwards and the winner of the raffle is announced after Santa arrives early in the afternoon. The ham raffle helps to support local community sporting groups and schools and celebrates the arrival of the festive season.